10 hours free ski tuition

On holiday with skivo
As part of your ski chalet holiday* we include 10 hours of free ski tuition each week (snowboarding tuition is not included but we can provide you with details of local companies).
Non skivo guests
If you are staying elsewhere then you can still join our standard ski classes (10 hours per week – 2 hours over 5 days).  The cost of this
£280 per person per week:  weeks commencing Saturday 23 December, 30 December 2023, 10 February, 17 February, 30 March, 6 April 2024
£200 per person per week:  all other weeks
The ski tuition takes place over 5 days with 2 hours of ski instruction per day (excluding the afternoon sessions which differ slightly and are run more as a ski clinic).  The instructors have one day off per week – this day normally being a Wednesday.
Children's ski lessons
Children are included in skivo lessons and are normally placed in child only ski classes whenever possible.  We require a minimum of 3 children of the same level for the ski class to run .
Ski lessons are provided for children of age 5 years and upwards.  We are normally unable to provide ski lessons for children under 5 years.
Lesson Times
Sundays
Lessons take place at 9.30am , 11.30am or 2.00pm –  the lessons start a bit later on the first day of your holiday to give everyone a bit more time to get organised
Monday – Friday (excluding Wednesday)
Lessons take place at 9.00am, 11.30am and 2.00pm.
Afternoon sessions
In the afternoons we run more of a ski clinic type session where we really focus on specific skills.  This ranges from work on steep terrain, bumps, carving or off piste.  The groups are smaller with an average ratio of 1:4 with a maximum of 5 people per group.   Video analysis is used during these sessions which has proven to be extremely useful.
We have also changed the format of these sessions.
During December and January and up until February half term, the afternoon sessions will run over 4 afternoons from 14:00 – 16:30hrs.  From late February, March and April the sessions will run for 3 days from 14:00 – 17:15hrs (finishing in Le Praz).   This will give the coach longer to work with you in the session and also frees you up to explore Les 3 Vallées on 2 or 3 full days.  You can still cover a lot of miles of ski slopes in Les 3 Vallées in the mornings too and then meet us at 14:00hrs for your ski clinic.
It's a great recipe to fully use your 3 Vallees pass and also get a more personalised coaching experience.
Class size
We take a maximum of 9 (with an average of 6) in the 9.00am and 11.30am classes and a maximum of 5 in the 2.00pm classes.
For guests to join our classes we require that a minimum of 3 guests (this includes children) be of the same level for skivo to be able to provide inhouse ski tuition for them.  If this is not possible we would place the guest(s) with another ski school.  This is more likely to happen if the guest is a total beginner or Level 1/2 skier.  If, in the most unlikely event, you do not fit in to one of our lessons and another ski school are not able to accommodate you, then you may have to take private ski lessons at an extra cost.
Ski school meeting points
9.30am (Sunday) or 9.00am (Monday – Friday) lessons start at the bottom of the gondola station in Le Praz and end at the ski school meeting point opposite Jean Blanc Sport Shop in Courchevel 1850.
11.30am or 2.00pm (Sunday – Friday) lessons start and end at the ski school meeting point opposite Jean Blanc Sports Shop in Courchevel 1850.
Request for lesson times
If you have a preference for a particular lesson time then please advise at the time of booking.  We will do our very best to accommodate requests although we can't guarantee these.
* Please note that should you either not ski or choose not to join in our lessons then no reduction will be offered on our standard holiday price.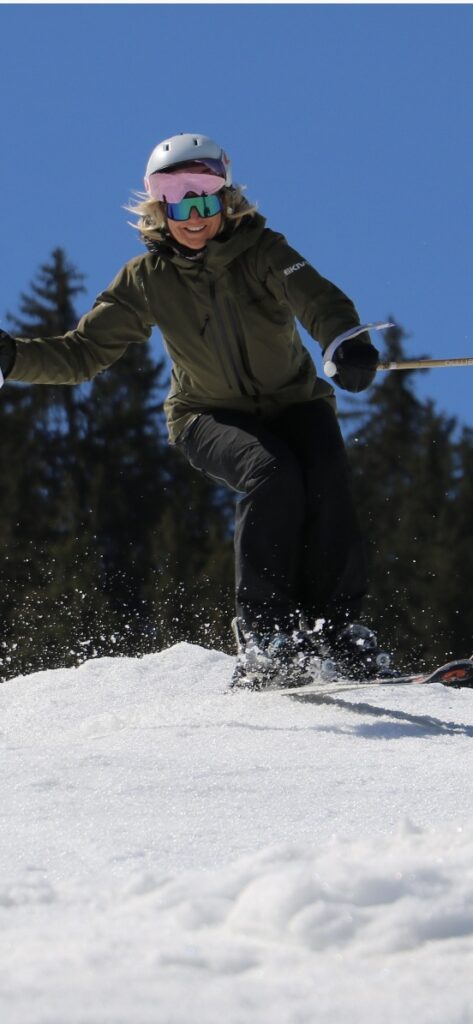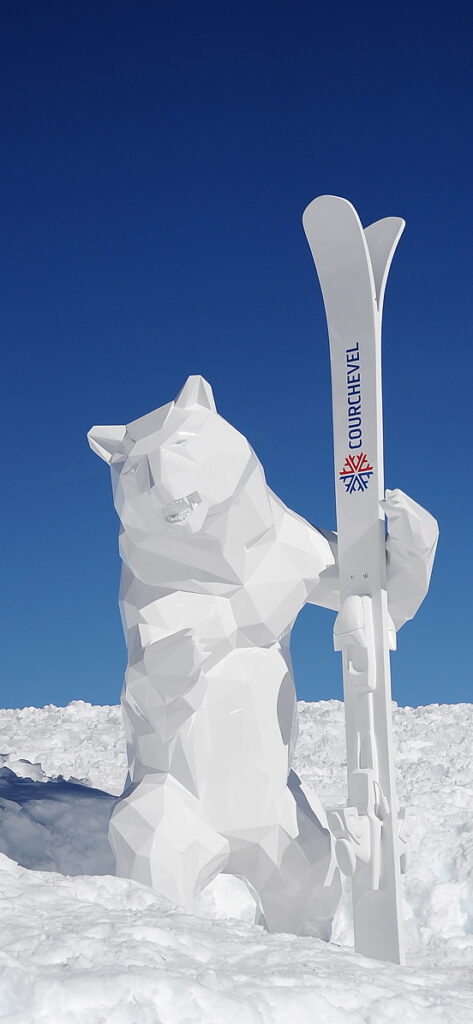 What our guests say about us
Just wanted to say what a wonderful holiday we had recently.  Chalet Sapin Bleu was a fabulous chalet (real luxury) and my friends and I are keen to return next season.  I think what made it so good was all the friendly help from the very start, to getting there and getting skis etc sorted out.  The chalet staff were great and the quality of the food was just amazing. 
We had a great week with skivo – my eighth, but the first for my wife and her two friends, and also for the lovely group of people with whom we shared Chalet Roger.  The entire skivo team looked after use fantastically well; nothing was too much trouble and Bogie's cooking was superb. The lessons were really good and we had amazing weather and snow
Just wanted to email and thank you again for hosting us for such a wonderful week. Our whole party had the best time ever and we are all really struggling being back at work – especially as it is snowing heavily here! It is by far the best week of the year and we are very grateful to you and the whole skivo team for making it so memorable.